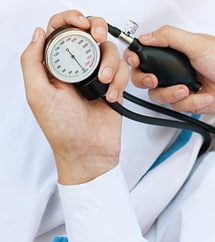 High Blood Pressure in Livonia, MI
Individuals with high blood pressure often also have sleep apnea. The medical relationship between which came first, the high blood pressure or the sleep apnea, is up for debate. However, treating one tends to improve the other. Contact Dr. Stewart and our team if you have hypertension and think sleep apnea is affecting your sleep. We can help keep your airway open for improved sleep and health.
Does My Blood Pressure Increase from Sleep Apnea?
Whether or not you already suffer from high blood pressure, or hypertension, your blood pressure will increase as a result of sleep apnea. When your throat muscles and tissue collapse, your body does not receive the oxygen it needs. When your oxygen level drops, your blood pressure, or the rate at which your blood circulates through your body, increases. This happens because your body is trying to compensate by rushing oxygen-carrying blood cells to your brain.
Is This Dangerous?
Sudden spikes in blood pressure can be dangerous. When your body reacts and raises your blood pressure, your heart has to work overtime to pump the blood throughout your circulatory system. This puts a strain on your heart and your entire cardiovascular system. The event increases your likelihood of stroke and may result in severe damage, or death, if you are already suffering from heart disease.
What Can I Do?
Treating high blood pressure associated with sleep apnea may simply call for sleep apnea treatment, or a combination of sleep apnea treatment and hypertension treatment. If you already suffer from chronic high blood pressure, make an appointment with your general practitioner or a cardiovascular specialist immediately to treat your high blood pressure. In addition, contact the office of Dr. Stewart, so you can speak with him regarding your sleep disorder. We will treat your problem with an oral appliance to keep you breathing consistently throughout the night. We may also suggest additional treatment.
How Do I Know if I Have High Blood Pressure?
Your blood pressure spikes when you have sleep apnea. However, to determine whether you have chronic hypertension, contact your general physician. Consider the following symptoms of high blood pressure to help you determine whether you need medical attention:
Dull headache
Facial flushing
Dizziness
Eye blood spots
Nosebleeds
However, you may experience a lack of symptoms, which often occurs with hypertension, until your problem is severe enough to be life-threatening. Schedule yearly physicals with your primary care physician to check your blood pressure.
Schedule a Sleep Consultation with Dr. Stewart in Livonia, MI
If you think you are dealing with a sleep disorder, such as sleep apnea or snoring, contact Dental Sleep Medicine of Michigan in Livonia at 734-425-4400 as soon as possible. We are excited to meet you and provide you with the relief that you've been searching for. Dr. James Stewart and our compassionate team are committed to forming trusting relationships with our patients, so we can work together to achieve sound treatment and a future full of restful nights. Located in Livonia on Middlebelt Road, we happily serve patients from Livonia, Farmington Hills, Farmington, Plymouth, Northville, Novi, Dearborn Heights, Dearborn, Garden City, Westland, Redford, and surrounding communities.