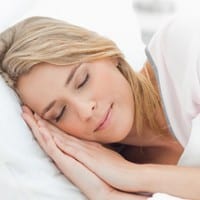 Stop Snoring in Livonia, MI
Whether you have determined that you are snoring because you are waking yourself up in the middle of the night, or a frustrated loved one who can't get more than a wink of sleep has complained, come in for a visit to the office of James R. Stewart, DDS. We can offer you a treatment option that will reduce your snoring for more comfortable sleep, and fewer sleepless nights.
Can I Stop Snoring?
You may always be prone to snoring. However, Dr. Stewart can offer you ways to stop snoring on a nightly basis so you can get a restful night's sleep. Consider the following options that may help you stop snoring:
Why is it Important to Stop Snoring?
Snoring is waking you up during the night. If you sleep next to your partner, you are waking up your loved one as well. While the act of snoring may result in mild irritation of your throat and can result in dry mouth, the repercussions may worsen the longer you ignore the problem. Snoring may be associated with sleep apnea, a sleep disorder in which you temporarily stop breathing and wake up several times during the night to gasp for air.
This constant interruption of sleep can result in exhaustion during the day, aches and pains from a lack of sleep, headaches, and difficulty concentrating. Explore ways to stop snoring and improve your quality of life.
Do Sleep Apnea Treatments Work for Snoring?
Both snoring and sleep apnea involve the relaxation of the muscles in the back of your throat. Therefore, some sleep apnea treatments also address snoring. A sleep apnea mask, for instance, can help you with your snoring. You may also be able to stop snoring with a mouthpiece, often referred to as an oral appliance. Treatment goals for both snoring and sleep apnea include:
Keeping your airways open while you sleep
Decreasing irritation and subsequent symptoms
Providing the consistent intake of adequate oxygen