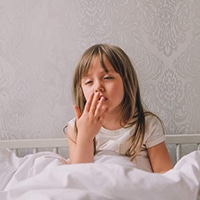 Obstructive sleep apnea is typically caused by mouth and throat tissues clogging a patient's airway at night, and abnormally formed tissues are often to blame. The goal of orthotropics, which is a branch of children's dentistry, is to ensure the proper oral growth and development of children's teeth, jaws, and surrounding facial structures. Therefore, one of the most important benefits of orthotropic treatment is helping children avoid functional issues like TMJ disorder, as well as conditions resulting from abnormally sized or shaped oral tissues—including OSA.
With a dedication to helping all of our patients enjoy exceptional oral health throughout their lives, Dr. Stewart currently offers customized orthotropics. With our wireless digital intraoral technology, our team is able to gather detailed images and measurements to custom-fit a device to your child's smile. No need to gather physical impression at all, this process is now streamlined and much easier or kids. We can also use the technology to show what your child's smile could look like following treatment. To learn more about the specifics and benefits of orthotropics, visit the orthotropics section of Dr. Stewart's main website by clicking here.
Schedule a Sleep Consultation with Dr. Stewart in Livonia, MI
If you think you are dealing with a sleep disorder, such as sleep apnea or snoring, contact Dental Sleep Medicine of Michigan in Livonia at 734-425-4400 as soon as possible. We are excited to meet you and provide you with the relief that you've been searching for. Dr. James Stewart and our compassionate team are committed to forming trusting relationships with our patients, so we can work together to achieve sound treatment and a future full of restful nights. Located in Livonia on Middlebelt Road, we happily serve patients from Livonia, Farmington Hills, Farmington, Plymouth, Northville, Novi, Dearborn Heights, Dearborn, Garden City, Westland, Redford, and surrounding communities.