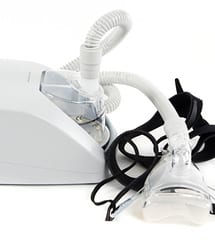 CPAP Machines in Livonia, MI
CPAP, or continuous positive airway pressure, is a type of therapy that helps sleep apnea patients. Particularly if you find that oral appliances are not sufficient, or if you have severe sleep apnea, a CPAP machine may be just the therapy you need to breathe freely and comfortably while you sleep.
What Is a CPAP Machine?
At the office of Dr. Stewart, we use ResMed CPAP machines and masks for your comfort and a good night of rest. This machine offers a noninvasive way to deal with obstructive sleep apnea. The device generates air with a motor, which works based on "titration." This means that the low air pressure is set by a professional, either Dr. Stewart or a sleep specialist, to ensure you are receiving the right amount of air as you sleep.
Why Do I Need a CPAP Machine?
If oral appliances have failed, or if you are experiencing severe sleep apnea, a CPAP machine works to physically push your airways open with air. The air is filtered and often flows through a humidifier, so the air you breathe is moist and comfortable. You will no longer wake with dry mouth, or other symptoms associated with sleep apnea.
Is CPAP Therapy Uncomfortable?
You still breathe on your own with CPAP. You can breathe in and out comfortably while you sleep. However, because you typically do not sleep while wearing a mask, or with positive air pressure entering your mouth and lungs, you may find the CPAP experience takes a few nights to get used to. Speak with Dr. Stewart about low-noise machines, or sizes and models that work for your lifestyle. Our goal is to help you sleep, not to add more interruptions to your night. ResMed offers quiet machines that help you and your partner get the rest you need.
What Are the Benefits of Using CPAP?
Wearing a CPAP at night offers benefits that you will notice immediately. Consider the following ways in which your life may improve:
You may wake feeling rested
Decreased morning headaches
A full night of sleep for you and your partner
Decreased risk of major health events, such as stroke or severe hypertension
At the office of James R. Stewart, we realize the idea of using a machine may make you feel a bit hesitant. However, because of the great risks associated with untreated sleep apnea, as well as the negative impact it has on your daily quality of life, we encourage you to make an appointment. Together we can discuss all sleep apnea treatment options and arrive at a solution that works best for you.
Schedule a Sleep Consultation with Dr. Stewart in Livonia, MI
If you think you are dealing with a sleep disorder, such as sleep apnea or snoring, contact Dental Sleep Medicine of Michigan in Livonia at 734-425-4400 as soon as possible. We are excited to meet you and provide you with the relief that you've been searching for. Dr. James Stewart and our compassionate team are committed to forming trusting relationships with our patients, so we can work together to achieve sound treatment and a future full of restful nights. Located in Livonia on Middlebelt Road, we happily serve patients from Livonia, Farmington Hills, Farmington, Plymouth, Northville, Novi, Dearborn Heights, Dearborn, Garden City, Westland, Redford, and surrounding communities.