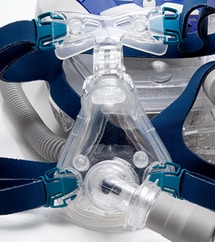 CPAP Masks in Livonia, MI
Once you have met with Dr. Stewart and our team to diagnose your sleep apnea, we may also refer you to a sleep specialist. After an evaluation and a plan of action to treat your sleep disorder, the suggested treatment may include CPAP therapy, or continuous positive airway pressure therapy. While several components of the CPAP device are significant, the mask that fits over your face, in particular, should provide a comfortable and effective experience.
What Is a CPAP Machine?
A CPAP machine is a device that utilizes pressurized air to keep your airways open while you sleep. The air pressure is mild – just enough to keep you breathing. There are three parts to this device, including the following:
A CPAP mask
A tube that connects to the machine
A machine with a motor to produce pressurized air
How Does the Mask Work?
You will place the mask over your face each night. Your mask will either cover your nose, your mouth, or both. You will speak with Dr. Stewart to determine the best mask for you and your unique set of sleep apnea circumstances. The tube that connects from the machine to your mask blows air in one direction only, into your airways. You will still breathe in and out on your own.
How Do I Find the Right CPAP Mask?
A successful use of a CPAP mask relies heavily on choosing a mask that works for you. All masks are not alike, and no mask is a universal fit. Consider the factors that may improve your experience:
Choose the appropriate size mask: If your mask is too tight or small, it may feel uncomfortable, and you may deal with air leaks that defeat its purpose.
Consider the different styles of masks: If you move around a great deal while you sleep, you will need more support, which typically includes a greater amount of straps. If you are bothered by the sensation of something on your face or head while you sleep, choosing a more minimal mask is best for a comfortable, successful experience. Dr. Stewart will speak with you about ResMed masks to help you find a good fit.
Ask questions: Ask as many questions of Dr. Stewart and our team as you feel necessary. We will help you adjust the mask, explain how it works, and tell you why we have helped you select the specific mask you will be wearing.
Remember to give yourself time to adjust to the mask and the air pressure. It may take several nights, but once the CPAP begins working and you become accustomed to wearing the mask, the benefits will outweigh any initial discomfort. Always contact us with questions or concerns so we can work together to treat your sleep apnea.
Schedule a Sleep Consultation with Dr. Stewart in Livonia, MI
If you think you are dealing with a sleep disorder, such as sleep apnea or snoring, contact Dental Sleep Medicine of Michigan in Livonia at 734-425-4400 as soon as possible. We are excited to meet you and provide you with the relief that you've been searching for. Dr. James Stewart and our compassionate team are committed to forming trusting relationships with our patients, so we can work together to achieve sound treatment and a future full of restful nights. Located in Livonia on Middlebelt Road, we happily serve patients from Livonia, Farmington Hills, Farmington, Plymouth, Northville, Novi, Dearborn Heights, Dearborn, Garden City, Westland, Redford, and surrounding communities.