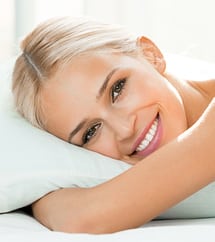 Sleep Appliances in Livonia, MI
If you come to our offices for a sleep disorder, such as snoring or sleep apnea, the first thing Dr. Stewart may do is recommend a sleep appliance. This may sound complicated, but it is similar to wearing an athletic mouthguard. With the simple creation of a custom-fitted mouthpiece, you can quickly find yourself on your way to a full night of comfortable, uninterrupted sleep.
What is a Sleep Appliance?
A sleep appliance is simply an oral device that you wear at night while you sleep. Dr. Stewart and our team will take impressions of your teeth using a wireless digital scanning device. No need for molds and goopy materials! We gather the images quickly and comfortably, then combining them to craft a 3D model. In a lab, our team can then create your sleep appliance with precision and accuracy. Once you begin wearing this comfortable, custom-fitted mouthpiece, you will have a solution for your sleep disorder.
How Does it Work?
An oral appliance typically consists of a top and bottom portion. The piece is created to position your lower jaw and tongue in an alignment that encourages open airways. Just by moving your jaw outward the slightest bit, your soft tissues in the back of your throat can remain open, rather than blocking your airways. We will instruct you to wear this device on a nightly basis to improve your sleep disorder.
Does it Treat Sleep Apnea or Snoring?
A sleep appliance can treat both sleep apnea and snoring. Both sleep disorders result from the partial or full blockage of your airway by your muscles and soft tissue. Because an oral appliance is designed to keep the airway open, it can address both issues. The realignment of your mouth and tongue may mean easy, full breathing while you sleep. This is helpful for both you and your partner. The accuracy of the treatment is possible due to the device being custom-fitted based on detailed digital images captured of your smile sing wireless intraoral camera technology.
What if the Appliance Doesn't Work?
You have more than one option for treating snoring and sleep apnea. We suggest you try the oral appliance for several nights and let us know if you experience any discomfort. Dr. Stewart can make minor adjustments and will show you how to wear your mouthpiece to receive the most benefit. However, if you continue to experience sleep apnea, we may recommend CPAP therapy, which uses pressurized air to keep your breathing passages open.
How Can I Tell if it's Working?
The easiest way to tell if sleep apnea treatment is working is to be aware of your symptoms. If they are diminishing, or have gone away, and you suddenly feel more rested than you have felt in ages, it is probably working. However, Dr. Stewart also suggests you come in for regular follow-up visits so we can monitor your experience. Additionally, he may recommend you visit a sleep specialist for a polysomnogram, or a diagnostic sleep test, to check your progress.
Schedule a Sleep Consultation with Dr. Stewart in Livonia, MI
If you think you are dealing with a sleep disorder, such as sleep apnea or snoring, contact Dental Sleep Medicine of Michigan in Livonia at 734-425-4400 as soon as possible. We are excited to meet you and provide you with the relief that you've been searching for. Dr. James Stewart and our compassionate team are committed to forming trusting relationships with our patients, so we can work together to achieve sound treatment and a future full of restful nights. Located in Livonia on Middlebelt Road, we happily serve patients from Livonia, Farmington Hills, Farmington, Plymouth, Northville, Novi, Dearborn Heights, Dearborn, Garden City, Westland, Redford, and surrounding communities.