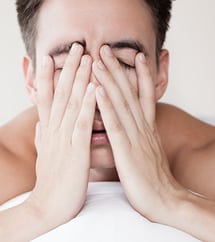 Morning Headaches in Livonia, MI
Waking in the morning with headaches, particularly after you think you've gotten a restful night's sleep, is extremely frustrating. A morning headache starts your day off poorly, making it impossible to get a fresh, happy start. Sleep apnea is one potential cause of this painful issue.
How Does Sleep Apnea Cause Morning Headaches?
You may wake up with headaches for a variety of reasons. If you happen to know that you snore, and you wake up with headaches, contact us right away to schedule an appointment. We will review your health history and discuss a possible sleep apnea diagnosis.
Whether or not snoring accompanies your headaches, consider the way in which sleep apnea may be causing your morning pain. When oxygen levels drop, carbon dioxide begins to accumulate in your bloodstream. When your brain and nervous system do not receive adequate oxygen, the blood vessels in your head dilate, which may cause a headache.
Is There a Particular Type of Sleep Apnea Headache?
If your headache is associated with sleep apnea, it may mimic a tension headache or migraine. Most sufferers experience the following headache symptoms:
Pain on both sides, above the eyebrows
Pain that typically lasts from 30 minutes to 2 hours
Daily occurrences
What Are the Available Treatments for Sleep Apnea Morning Headaches?
You can treat the headache itself with over-the-counter analgesics to reduce the pain. However, if sleep apnea is the underlying cause, you will need to come in for a visit to eliminate the headaches. Make an appointment with us at your earliest convenience so we can create an oral appliance to correct your nighttime breathing, and help you avoid sleepless nights.
Are There Other Morning Headache Causes You Can Treat?
Morning headaches can result from another treatable dental condition, called TMJ disorder, which Dr. Stewart can also treat. Read about this issue in depth by visiting his dental services TMJ disorder page. Your TMJ, or temporomandibular joint, is the joint that attaches your lower jaw to your skull, and is surrounded by nerves and muscles.
TMJ disorder includes the grinding or clenching of your teeth while you sleep. You may also tense this joint while you are awake without realizing it. If you suffer from dull, lingering headaches, facial pain, a sore neck or ear, ringing in the ears, or locking of your jaw, we can also treat this issue with an oral appliance. Find out whether you have a TMJ disorder or sleep apnea by scheduling an appointment.
Schedule a Sleep Consultation with Dr. Stewart in Livonia, MI
If you think you are dealing with a sleep disorder, such as sleep apnea or snoring, contact Dental Sleep Medicine of Michigan in Livonia at 734-425-4400 as soon as possible. We are excited to meet you and provide you with the relief that you've been searching for. Dr. James Stewart and our compassionate team are committed to forming trusting relationships with our patients, so we can work together to achieve sound treatment and a future full of restful nights. Located in Livonia on Middlebelt Road, we happily serve patients from Livonia, Farmington Hills, Farmington, Plymouth, Northville, Novi, Dearborn Heights, Dearborn, Garden City, Westland, Redford, and surrounding communities.