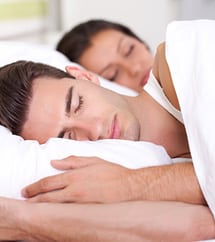 Snoring Solutions in Livonia, MI
Snoring solutions may begin with a sleep test. Dr. Stewart and our team may refer you to a sleep physician for an evaluation. Part of this exam will include a sleep test to determine whether you simply snore, or if you have obstructive sleep apnea. Come in for a visit if you think you may suffer from one of these sleep disorders and get started on your journey toward a better night's rest.
How to Stop Snoring?
When you're trying to determine how to stop snoring, part of your treatment includes making lifestyle changes. While Dr. Stewart can offer you ways to quickly address the situation for healthy breathing while you sleep, you can also make changes that can have a lasting effect. Consider the following suggestions for reducing snoring:
Avoid drinking alcohol or taking muscle-relaxants before bedtime – they will relax the muscles in your throat, which partially collapse and cause snoring.
Try sleeping on your side.
If you are overweight, set a goal to lose weight to reduce pressure against your neck and throat.
Address sinus or congestion problems to improve overall respiratory openness and air flow.
Mouthpiece Treatment
Dr. Stewart may create a snoring mouthpiece, more often referred to as an oral appliance, which will realign your mouth and tongue. This new alignment will help keep your airways open by preventing your soft tissue from relaxing too much and coming into contact with one another while you sleep. Our team will take digital impressions of your mouth, no need for molds and goopy material! The 3Shape Trios digital imaging technology enables our team to gather images comfortably with a wireless scanner, and use them to design and fabricate a custom-made sleep appliance with precision and accuracy. Next, a lab custom-create your oral appliance for a comfortable fit. Dr. Stewart will then make necessary adjustments and explain how to wear your mouthpiece to stop snoring.
Sleep Apnea Mask
Sometimes referred to as a sleep apnea mask, the CPAP mask (continuous positive airway pressure) may also help you stop snoring. The sleep apnea mask covers your mouth or nose with just enough pressure to create a seal. You breathe normally with a custom-adjusted pressure level. The CPAP pressure is set just high enough to keep your airways open without causing discomfort.
Schedule a Sleep Consultation with Dr. Stewart in Livonia, MI
If you think you are dealing with a sleep disorder, such as sleep apnea or snoring, contact Dental Sleep Medicine of Michigan in Livonia at 734-425-4400 as soon as possible. We are excited to meet you and provide you with the relief that you've been searching for. Dr. James Stewart and our compassionate team are committed to forming trusting relationships with our patients, so we can work together to achieve sound treatment and a future full of restful nights. Located in Livonia on Middlebelt Road, we happily serve patients from Livonia, Farmington Hills, Farmington, Plymouth, Northville, Novi, Dearborn Heights, Dearborn, Garden City, Westland, Redford, and surrounding communities.