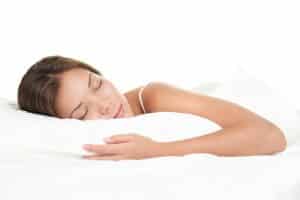 When you're dealing with any type of sleep interruption, it can be very easy to get your sense of what's "normal" or "healthy" a bit confused. If you find that you are relieved to wake up with only a mild headache or to feel only slightly exhausted, then something may be amiss. Let's reset your understanding of what sleep should look like on a nightly basis, help you determine whether you're achieving this very important part of your daily cycle, and guide you toward improvement if it appears a sleep disorder is getting in the way.
You Should Be Getting About 7 Hours
First, generally speaking, if you're getting good, healthy sleep, then you're getting about seven hours of sleep every night. This doesn't mean a total of seven hours over the course of a longer period, including times when you wake up. It means seven hours of solid sleep. If you think a sleep disorder like snoring or sleep apnea may be interrupting your sleep (or if you're having trouble getting this much time in), it may be time for our help.
You Should See Us If Something Is Wrong
You may not be able to determine how much sleep you're getting because if you deal with sleep apnea, you don't necessarily remember the many times throughout the night that you wake up. What you will notice, however, is symptoms, such as fatigue, headaches, sore throat, exhaustion, moodiness, and a lack of focus. Coming in to talk with us about a possible sleep disorder is to your benefit because we can guide you toward sound sleep with treatment solutions.
Come See Us For Sleep Improvement
We are here to help if you think something is amiss with your sleep. Come on in, so we can help determine whether treatment for issues like snoring or sleep apnea is required. James Stewart, DDS, and our team serve patients from Livonia, MI, as well as Farmington Hills, Farmington, Plymouth, Northville, Novi, Dearborn Heights, Dearborn, Garden City, Westland, Redford, and the surrounding communities. To schedule a consultation, call our office today at (734) 425-4400.