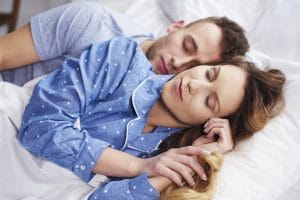 A sleep appliance benefits more than just the person who wears it. Of course the wearer can find relief from troubling issues including sleep loss, dental issues, headaches, neckaches and excessive snoring. A custom-crafted mouth guard improves dental health by protecting teeth from the stress of bruxism. Sleep appliances can help the alleviate jaw misalignment often connected with bruxism and TMJ (temporomandibular joint) issues. Those who deal with Obstructive Sleep Apnea can also find relief with the proper sleep appliance. But the benefits don't stop with one individual.
Your Sleep Partner Will Benefit
Custom crafted sleep appliances can alleviate or greatly reduce:
Loud snoring from Obstructive Sleep Apnea
The disturbing sound of nighttime tooth grinding, which can sometimes be heard even from another room.
The snorts and gasps from episodes of obstructive sleep apnea, which can occurs every few minutes.
Rather than separate sleeping areas, your dentist may have other solutions that will work for both partners.
Your Family Will Benefit
Your family wants you around for a long time! Poor sleep affects structures throughout the body. High blood pressure, heart problems and even diabetes can be made worse when sleep is disrupted. Sleep deprivation has also been linked to depression and moodiness. Some studies have shown a correlation between weight gain and lack of restful sleep.
Work Colleagues Will Benefit
A tired colleague is likely to be cranky, impatient, irritable and forgetful. Well-rested people have better decision-making skills, more patience and higher task completion than those who are tired.
If Your Sleep is Disruptive to Others, Talk to Us
You may be a good candidate for a sleep appliance that will make a difference not only to you, but to others. Give us a call! James Stewart, DDS, and our team serve patients from Livonia, MI, as well as Farmington Hills, Farmington, Plymouth, Northville, Novi, Dearborn Heights, Dearborn, Garden City, Westland, Redford, and the surrounding communities. To schedule a consultation, call our office today at (734) 425-4400.