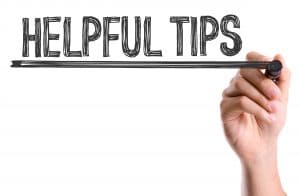 Sleep disorders can be confusing to deal with when you're new to this area of concern. You may assume you need some sort of aggressive treatment when, in reality, you need to make some better choices and you need professional treatment. See? Easy. Find out more with our quick tips.
Tip: Keep The Lights Dim
Do you tend to fall asleep on the sofa? Then, you enter your room, turn the light on, turn the bathroom light on, turn it off when you're done getting ready for bed, then you get into bed. Then, you take a look at your phone or tablet to check up on social media, send a quick text, and it's off to sleep! Right? Well, for many people all of that light is telling your brain that it's daytime. "Rise and shine, time to get up!" is how your brain interprets it. So, keep the lights low. Skip the phone or tablet checking. Do yourself a big favor and get ready for bed before your snooze on the sofa (or just get straight into bed). It will help you fall asleep, so getting there isn't part of your sleep disorder.
Tip: Stop Trying To DIY Your Sleep
We know that you are probably an avid reader, checking out blog sites, medical sites, and gathering up as much data as you can so that you may treat your sleep disorder with a do-it-yourself (DIY) approach. While we commend you for your dedication to your sleep health, this is absolutely not your best pathway toward addressing your sleep problems. Instead, we strongly encourage you to simply skip attempting to inform yourself on this topic on your own and instead, to gather up a fine education by seeing us for treatment. We'll explain everything, offer a diagnosis, and suggest helpful ways to treat your concerns.
Treat Your Sleep Disorder Today
Don't wait! If you think something is interrupting your sleep, come talk with us. We will be happy to see you. James Stewart, DDS, and our team serve patients from Livonia, MI, as well as Farmington Hills, Farmington, Plymouth, Northville, Novi, Dearborn Heights, Dearborn, Garden City, Westland, Redford, and the surrounding communities. To schedule a consultation, call our office today at (734) 425-4400.