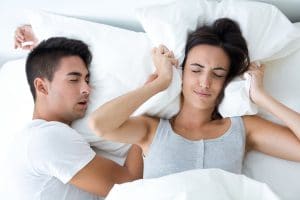 How can a problem with the way you sleep have an effect on your risk for hypertension? If you suffer from sleep apnea, and go without treatment, the problem can cause issues with your blood pressure, among other concerns. Sleep apnea can cause additional troubles because the condition is robbing you of the ability to sleep restfully through the night. Unlike snoring, which involves a partial blockage of your airways, sleep apnea sufferers have their air supply cut off by soft tissue. Clearing that blockage involves waking – you might not remember it, but those periods where you wake up are interfering with your sleep cycles. You will suffer the effects of sleep loss, which includes negative effects for your blood pressure. Fortunately, your Livonia, MI dentist can help you treat your sleep apnea.
Other Harmful Symptoms That Are Connected To Sleep Apnea
Snoring can be the most recognized problem associated with sleep apnea, and certainly one that can intrude on your partner's nights. However, the problems extend beyond the noise you make while you sleep. As you continue to go without treatment, you can become groggy, ill-tempered, and sluggish during the day. Your lack of beneficial sleep also has the capacity to create complications with other health issues. For instance, a person with diabetes can find their health harder to manage if they are experiencing sleep apnea.
Find Out How Your Dentist Can Help You Address Sleep Apnea
Your dentist is ready to provide the right solution for your sleep apnea troubles. A CPAP machine can be provided – this device will keep your airways open throughout the night. For some patients, a special sleep appliance can be used. Your custom insert will be worn during the night – while in place, it can position your jaw in a way that encourages you to maintain an open breathing passage while you sleep.
Talk To Dr. Stewart About Issues Related To Sleep Apnea
Sleep apnea poses a real threat to your well-being. Fortunately, Dr. James Stewart and our team at Dental Sleep Medicine Of Michigan are ready to meet with you, and provide you with valuable support. Located in Livonia on Middlebelt Road, we happily work with those from Livonia, Farmington Hills, Farmington, Plymouth, Northville, Novi, Dearborn Heights, Dearborn, Garden City, Westland, Redford, and surrounding areas. To make an appointment, contact Dental Sleep Medicine of Michigan at 734-425-4400.