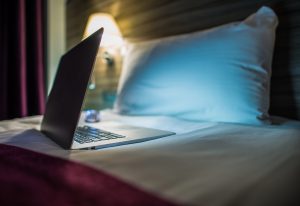 Are you doing things that are stimulating your mind or energizing your body, which makes you feel wide awake when you should be going to sleep? While this isn't the cause of your sleep apnea and need for sleep apnea treatment, it's something that is working directly against your attempt to be able both fall asleep and remain sleeping for a full cycle! What you may not realize is that your body actually has a natural, internal clock that reacts to stimuli. You can trick it into thinking it's time to get up for the day, you can confuse it with artificial stimulants, and none of this helps when you just want to catch some z's. Let our Livonia, MI team cover some major categories you might be overlooking.
What You're Looking At Before Bedtime
What are you filling your brain or your eyes with right before you lie down to go to sleep? First, we remind you that if you get your mind racing by reading something very thought provoking (maybe it makes you anxious, upset, etc.), it may be hard to go to sleep. In addition, and we say this all the time, you are working against your sleep apnea treatment if you're staring at a screen. Turn all devices off when you're in bed, that includes your phone, your TV, your laptop, etc.
What You're Eating Near Bedtime
What are you consuming before bed? Are you sipping down a final espresso for the evening? Your caffeinated cola? An energy drink? Tea? Do you like to have one final cigarette before bed? Do you eat a bar of dark chocolate? If you're consuming any beverages with caffeine in them or you're using nicotine, remember that these are stimulants. You may be making it impossible for your sleep apnea treatment to work because you're so hyped up, you cannot fall asleep.
What You're Taking Before Going To Sleep
What type of medication do you take before you get into bed? If it's anything that stimulates your brain or if it's anything that relaxes your muscles, you are not helping your sleep apnea. You want to fall asleep of course, but you also want to keep your muscles at an active level, so you don't end up with collapsed tissues and blocked airways. Keep this in mind.
Let Us Help You Clear Away Distractions From Sleep
If you are accidentally distracting yourself from falling asleep and remaining asleep, we can help identify and say goodbye to those factors! James Stewart, DDS, and our team serve patients from Livonia, MI, as well as Farmington Hills, Farmington, Plymouth, Northville, Novi, Dearborn Heights, Dearborn, Garden City, Westland, Redford, and the surrounding communities. To schedule a consultation, call our office today at (734) 425-4400.