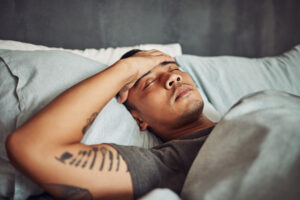 If you find that you are waking up feeling tired or sore, it could be a result of a common sleep disorder. Two of the five most common sleep disorders relate to oral health, so when you need to see a change, talk with a professional who understands the science behind your slumber. Chronic obstructive sleep apnea can affect your daily life, as well as your overall health, so take your condition seriously and seek treatment.
With our helpful team of dental professionals in Livonia, MI, you can take positive steps to improve your sleep. Sleep apnea occurs when your throat becomes a little too soft during your deepest form of sleep. As this happens, the tissue can start to collapse on itself, blocking your airway and preventing you from drawing a full breath. This condition may seem like problem snoring, but it increases your risk of developing certain cardiovascular conditions such as heart disease and stroke. Talk to us about the benefits of an appliance-based approach to your sleep apnea treatment!
Sleep Apnea Can Impact Your Daily Life As Well As Your Health
If your loved ones have mentioned your loud snoring, do not dismiss their concerns offhand. You may have a condition known as chronic obstructive sleep apnea, so talk with a team of oral health professionals about your struggles. This common sleep disorder can become a serious problem for your ability to get a full night of rest. It can also place you at an elevated risk of heart attack and stroke.
This condition occurs when your throat softens during sleep. For some people, the nerve that controls swallowing can become temporarily incapacitated, allowing your tissue to become flexible enough that it blocks your airway. When this happens, you can go without drawing a full breath for over a full minute.
Try A Non-Surgical Method Of Sleep Apnea Treatment With An Oral Appliance
For some people, the thought of sleep apnea treatment seems too intrusive, so they choose to live with their condition. If this sounds like you, take the time to talk to your dentist about whether an oral appliance is the right choice for your condition. Oral appliances help to combat sleep apnea with a simple repositioning of the jaw. Wear your slim guard while sleeping and discover the wonder of a full night of rest. This approach allows you to avoid noisy machines and even surgery!
Ask All Of Your Sleep Apnea Treatment Questions At Your Consultation In Livonia, MI
When you need to see an improvement in your sleep quality, talk to a trusted oral health provider about whether an oral appliance is right for you. For more information on appliance-based sleep apnea treatment, call (734)425-4400 and schedule an appointment with Dr. James Stewart, DDS in Livonia, MI!