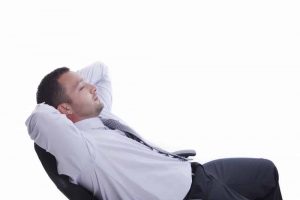 During the Industrial Revolution laborers worked long and hard. Today many people have white collar jobs sitting in front of a computer for eight hours a day. What happens when people get sleepy? Can a power nap really make a difference in your energy level and productivity? And what exactly is a power nap?  In today's sleep blog, your Livonia, MI dentist, Dr. James Stewart, explains what a power nap is and how they can be beneficial.
What Is A Power Nap?
It's hard to know for certain whether or not humans are naturally monophasic sleepers, but theory is that we are not. Therefore, humans do not get enough sleep by following the monophasic sleep pattern. When polled nearly 30 percent of Americans say that they do not get enough sleep.  Power naps are short bursts of sleep that last between 10 and 30 minutes. Although it may be frowned upon to put your head on your desk and catch a power nap at work. It can be beneficial for all involved.
Benefits of Power Naps
Lack of sleep can affect your mood, reaction times, and result in accidents and illnesses. Power naps can decrease sleep deficits and benefit you in such ways as:
Boosting brain power, creative problem solving, perceptual learning, and verbal memory
Decreasing blood pressure, stress levels, and possibly the risk of heart disease
Increasing clarity of thinking, reaction times, symbol recognition, and logical reasoning
Increasing alertness and motor skills
Increasing productivity
Tips
The ideal time for napping is between 1p.m. and 3 p.m., and keep your power naps 30 minutes or less
About Dr. Stewart
James R. Stewart, Jr, DDS, PC and our compassionate staff proudly serve patients of all ages from Livonia, Farmington Hills, Plymouth, Northville, Dearborn Heights, Garden City, and all surrounding communities. If you think you or a loved one is dealing with a sleep disorder, call our office today at (734) 425-4400, to schedule an appointment. At Dental sleep Medicine of Michigan, we are committed to forming trusting relationships with our patients so we can work together to achieve sound treatment and a future full of restful nights.