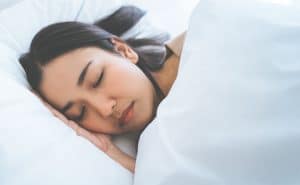 Healthful eating habits and restful sleep can go hand in hand. By the same token, when eating habits get lax, it can be harder to fall asleep and to stay asleep.  If a busy schedule means more meals from the office vending machines, or grabbed on the go, you may notice the effect come bed time. Summer travel, vacation fun and family get togethers can also mean healthy eating habits slip. If you are waking with a morning headache, or feeling tired and sluggish, a change in diet might make a difference.
Food and Good Sleep
For the best sleep, an overall healthy diet is important. Eating a variety of foods insures you are getting adequate amounts of nutrients like calcium and magnesium, which aid in rest. Most people find it helpful to avoid large meals late in the day. Cut back on spicy foods, fried foods, tomato-based products and even citrus, which can activate acid reflux, resulting in poor sleep for some people.
What You Drink Matters
If your sleep is not restful, check your drinks (and foods) for hidden sources of caffeine. Cut back on alcohol, if you drink, or have that beer or glass of wine early in the evening. 
Still Not Sleeping Well?
If changes in your diet don't make a difference, that doesn't mean you must resign yourself to a lifetime of poor sleep. Your dentist can help you assess sleep apnea issues, and find a solution. Good sleep is vital to good health, and once you are sleeping comfortably through the night, you will be glad you took the time to care for this aspect of your health.
Don't Let Your Diet Disturb Your Rest
If you've tried diet changes, and still can't find restful sleep, it is time to look further. For questions about sleep apnea, your diet, and your health, we can help. James Stewart, DDS, and our team serve patients from Livonia, MI, as well as Farmington Hills, Farmington, Plymouth, Northville, Novi, Dearborn Heights, Dearborn, Garden City, Westland, Redford, and the surrounding communities. To schedule a consultation, call our office today at (734) 425-4400.