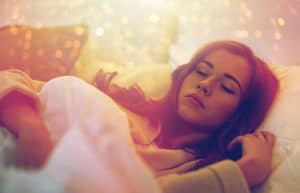 When you're having issues with your sleep, you may find that you're just having one area of concern. Or, you may find that you're having trouble in multiple areas. For instance, if you're struggling not only with sleep apnea and remaining asleep but you also have trouble drifting off to dreamland, then nighttime isn't a very enjoyable or successful time for you right now! As you might imagine, our Livonia, MI practice is here to guide you with treatment for your sleep disorder and with some suggestions for an easier experience altogether!
Try A Guided Meditation
While you may already realize you need to see our team for sleep apnea treatment or some other treatment for your sleep disorder, you may feel stumped. You know that treatment will help you stay asleep but what if you're having trouble getting there? One easy suggestion from our team? Try a guided meditation. You can find them online with ease! Turn on your speaker or put on your headphones and listen, as a soothing voice helps you relax your thoughts and body, so you can more easily drift off to sleep.
Make Your Surroundings Extremely Relaxing
It's very important that you ask yourself whether you have created a relaxing environment for your sleep or if there are things you need to change. Sure, your treatment for a sleep disorder may work wonders once you're actually snoozing. However, what's stopping you from getting to that point? Noises? Sights? Lights? Scents? An uncomfortable pillow? Complete a quick assessment of your room and ask yourself what needs to change. Change it. This can work very well!
Watch What You're Eating And Drinking
We say this frequently but, in addition to the fact that consuming things like alcohol or caffeine that can mess with your sleep, it can actually make it more difficult to fall asleep, too! So, if you want to support the sleep treatment you receive from our practice, we remind you to also take lifestyle choices into consideration to ensure you're making all aspects of sleep easier and more successful.
Try To Normalize Your Routine
Of course, it's possible to fall asleep at different times every night. However, it's easier to get into a routine and to fall asleep at the same time each night because your body will get into a cycle. Try this out if you're having trouble!
Find A Way To Solidify Your Sleep
Tell us when you're having any sort of trouble with your sleep, which may include falling asleep and remaining asleep due to a sleep disorder. Remember that we offer treatments for everything from snoring to sleep apnea! James Stewart, DDS, and our team serve patients from Livonia, MI and the surrounding communities. To schedule a consultation, call our office today at (734) 425-4400.