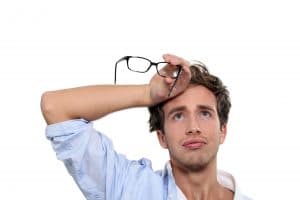 There are some worries that might be causing you to cling to fear, rather than come in for the help you think you might need for sleep apnea. For instance, you may wonder if you actually need sleep apnea treatment or if we will tell you that it's probably something else. You worry that you'll feel embarrassed or that you will have wasted our time (absolutely not true!), so you just don't schedule a visit with our Livonia, MI team … even though you'd like to. Let us help you see that when you think you might need help, it's worth setting up time to meet with us!
Feeling Extremely Uncertain
Are you feeling extremely uncertain about whether you may even have sleep apnea or not? If so, then you may feel strange contacting us to come in to talk about a disorder you may not even have. Then what, you may think to yourself? The truth is, you may stroll in to discover that sleep apnea treatment is just what you need. You may find out that you need help with snoring. Or, you may even discover that you can mark sleep apnea off of your list and that it's time to seek other answers. Whatever the case, it's a worthwhile use of your time!
Worrying Treatment Is Expensive
Something else you can let go in terms of sleep apnea treatment? You might stress because you think it's going to be extremely costly. Here's what you can remember: You will simply need an oral appliance in most cases (a mouthguard), which is very budget-friendly.
Wondering If Treatment Will Conflict With Medication
Fortunately, the sleep apnea treatment we offer is all drug-free, so you don't have to worry about it interfering with any other treatments you're receiving.
Feeling You Know Too Little
We don't really expect you to know anything about sleep apnea or sleep apnea treatment. It's our job to provide you with the education you need. To be honest, it's often better for patients to come in without much knowledge on the topic of sleep disorders because it means the information we provide won't be in conflict with any potential misinformation our patients have already consumed! So, don't worry: We welcome you even if you don't know much other than that you're exhausted and you're looking for solutions!
Come In To Discover More About Sleep Apnea
Don't feel as though you have to already know what's going on with your sleep before you come in to see our team. Visit us no matter what, as we welcome the opportunity to offer you treatment if appropriate. James Stewart, DDS, and our team serve patients from Livonia, MI and the surrounding communities. To schedule a consultation, call our office today at (734) 425-4400.