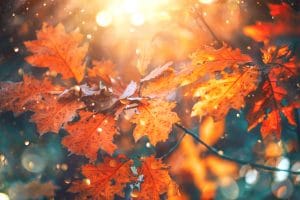 In case you didn't already notice, fall is headed our way! As we bid goodbye to the lovely warmth and sunshine-y nature of summer, our Livonia, MI community also offers a very happy, excited welcome to autumn and all of the magic that it brings! While there's a lot to enjoy, it may have suddenly struck you that this seasonal change could potentially get in the way of your currently effective sleep disorder treatment. What to do, you ask? Consider our tips and you'll be just fine!
Days Are Getting Shorter, So…
You got it! The days are getting shorter, which means you'll have less and less sunlight, making for earlier nights. What does this have to do with your sleep? Well, you may not expect to suddenly fall asleep on the sofa at six o'clock because the sun has gone down. This may make you more likely to drag yourself to bed without your sleep disorder oral appliance therapy! We remind you: Adapt your nightly routine to this shift, so you are always on top of the treatment you need for successful sleep.
Check Your Cozy Fall Drinks: Are They Caffeinated?
We know that autumn is full of amazing drinks that put a smile on your face and make you feel like you're wearing your favorite sweater (and blanket and slippers). However, it's important that you take a look at what you're sipping if you want to ensure you're promoting success with your sleep disorder treatment! That spiced apple cider, pumpkin coffee beverage, or otherwise might have caffeine in it, which can mess with your sleep. Keep an eye out!
Temps Are Dropping! Is Your Bed Ready?
One second, you're in shorts and a T-shirt. The next? It's shockingly chilly! Simply take a moment to ensure your bed is prepared for your nightly rest and for dipping temperatures. Waking up because you're too cold is an easy-to-prevent problem! Add a blanket to your bed, toss on your autumn jammies, and let that sleep disorder treatment work its magic!
Get Your Flu Shot Soon To Prevent Congestion
Are you someone who gets a flu shot each year? Are you planning on doing it this year? If so, then we remind you that it's available in the fall! The sooner you receive it, the sooner you'll be prepared to prevent the flu (or, to at least end up with a much less severe version of it), so you can skip serious congestion that can get in the way of your overall health and your sleep!
Transition Your Sleep Easily Into Fall 
Protect your ability to sleep through the night when fall arrives, as you take our suggestions into consideration! Remember to also follow through on keeping up with your snoring or sleep apnea treatment! James Stewart, DDS, and our team serve patients from Livonia, MI and the surrounding communities. To schedule a consultation, call our office today at (734) 425-4400.