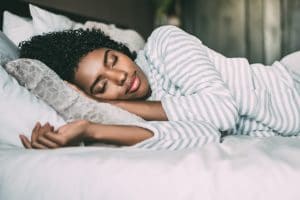 You hear all the time that sleep is important. You know, of course, from personal experience that getting sleep is nicer than not getting sleep. However, when you deal with a sleep disorder like serious snoring or sleep apnea for quite a while, it can be easy to slowly acclimate to this sleep-deprived lifestyle, as you try to deal with the side effects and lose sight of just how many ways sleep benefits you! In addition to protecting your health, our Livonia, MI team would love to cover some additional ways sleep is the best (so you may feel motivated to come in to treat it sooner than later!).
#1: After A Long Hard Day
After a long, hard day, when you're tired and ready to go to sleep, the best thing in the world is, of course: Lying down and going to sleep! You know that you'll feel nice and rejuvenated, when you wake up in the morning. Right? Well, that's true if you are able to actually go to sleep and stay asleep! However, if you're dealing with a sleep disorder like sleep apnea, you may try to sleep but without success. One answer? Sleep apnea treatment!
#2: It Helps With Your Social Connections
Are you dating? Just living your life, as you spend time with family members and friends? Whatever the case, you may have started to notice that when you feel absolutely exhausted, it doesn't do much for your ability to comfortably connect with those around you. So, though it may be one of those things you've never really considered before, remember that sleep is actually one of the best things for your social life! When you're well rested and energized, communicating is easy!
#3: It Makes For Fantastic Luxuriating
Sometimes, it's time for rest and relaxation. Let's say you schedule two weeks off from work and you're planning on just giving yourself a break. Maybe you're heading out on vacation or maybe you have planned a staycation at home! You cannot wait to get lots of sleep and feel amazing at the end of that break. In this case, sleep is the best! Unless, of course, you cannot seem to get any sleep, no matter how hard you try. Fix this by seeing us soon to learn more about any potential sleep disorders impacting you and to find out whether something like sleep apnea treatment may make it all better.
Enjoy Sleep Again With Treatment!
Say goodbye to the days of dealing with interrupted nightly rest and, instead, get started with effective sleep treatment with our team, so you may go to sleep and remain asleep for solid rest. James Stewart, DDS, and our team serve patients from Livonia, MI and the surrounding communities. To schedule a consultation, call our office today at (734) 425-4400.