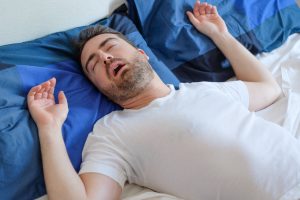 If you have no one who can alert you to your tendency to snore, how can you know if sleep apnea affects you? While snoring may be a commonly recognized sign of poor sleep health, there are other issues that you should know about. Recognizing them can help you recognize the need for treatment, which can lead to better rest and overall health! Dr. Stewart is ready to provide sleep apnea treatment for people in the Livonia/Detroit, MI area. With the right approach to care, we can address your nightly difficulties. What might surprise you is how we can often address these difficulties through oral appliance therapy, which means you will not have to wear a CPAP machine at night.
Are You Affected By These Issues?
There are several problems that you can experience during the day that point to difficulties with sleep apnea. You can expect to struggle with fatigue, as your nightly breathing troubles interfere with your ability to rest properly. Because you are not completing your sleep cycles, your body can experience fewer benefits from slumber. As a result, you can feel sluggish, you can experience issues with short term memory and mood, and you may have a harder time keeping your eyes open during the day. You can also experience headaches when you wake up, and deal with frustrating dry mouth.
Sleep Apnea Can Negatively Affect Your Blood Pressure
Problems with your rest are able to do more than just cause you to feel sluggish and unfocused. Your inability to rest properly can cause worrying physical problems, too. Sleep apnea can make it harder to control your blood pressure. High blood pressure can make you more vulnerable to heart troubles over time! You may also observe that you have issues with an irregular heartbeat.
Beginning Treatment With A Custom Oral Appliance
While CPAP machines help many people enjoy sound, beneficial slumber, you may hope for a different option when you start seeking treatment. With a custom oral appliance, we can keep your airways clear during the night. For someone with obstructive sleep apnea, this physical adjustment can prevent troubles with breathing that cause them to awaken frequently.
Talk To Your Livonia/Detroit, MI Dentist About Your Sleep Apnea Symptoms
You can speak to your Livonia, MI, dentist, Dr. Stewart, about problems with sleep apnea during a regular checkup, or at an appointment you arrange. By mentioning your problems, you can learn about solutions that help you enjoy a better night's rest as well as better overall health! Our practice is proud to help people who struggle with this and other issues that negatively affect their quality of life. To find out more, you can make an appointment with Dr. Stewart by calling (734) 425-4400.