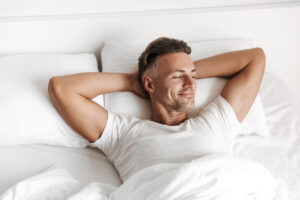 When your family starts to bring up your loud and concerning snoring, it may be time to speak with an oral health professional about your condition. This could be a symptom of a common sleep disorder called chronic obstructive sleep apnea, and it can be seriously harmful to your health. This happens when the structure of your throat becomes a little too soft while you rest overnight, leading your own body to block your airway. Apnea patients are at an elevated risk of developing cardiovascular concerns, so be sure to seek treatment as soon as possible.
With our team in Livonia, MI, you can rest easy with the help of an oral appliance. If you have been holding off on speaking with a sleep science professional due to the intrusion associated with other forms of treatment, this solution could be right for you. This approach uses a comfortable guard to gently reposition the placement of your jaw while you sleep, allowing you to breathe freely!
Chronic Obstructive Sleep Apnea Can More Than Just Pesky Snoring
Commonly, patients with sleep apnea may believe that their condition is simply a minor annoyance, but you are putting yourself at risk of serious complications. Patients with this common sleep disorder are more susceptible to hypertension (high blood pressure), which can lead to dangerous and potentially life-threatening issues. Those with sleep apnea are more likely to experience a heart attack or stroke, so take the time to talk with a trusted oral health provider about your options in treatment.
Our team can help you to relieve your symptoms by preventing the contact of your throat tissue while you rest. An oral appliance is an acrylic guard that you wear during sleep, and it can be beneficial for those with sleep apnea. By addressing the concern before it has a chance to occur, you can limit the lasting effects of your disorder.
Try An Oral Appliance And See If A Slight Change Can Improve Your Sleep
Oral appliances are beneficial for those with chronic obstructive sleep apnea because they provide a way for you to keep your airway free through the night. With a simple adjustment of your jaw, this approach can prevent your throat tissue from contact. Take some time to speak with your dentist about this option in the treatment of your common sleep disorder, and start your path toward a more restful night of sleep!
Appliance-Based Sleep Apnea Treatment In Livonia, MI
If you are struggling with loud snoring, talk with your dentist about whether chronic obstructive sleep apnea is to blame for your symptoms. For more information on this condition or to schedule an appointment, call Dr. James Stewart, DDS at (734)425-4400 in Livonia, MI.