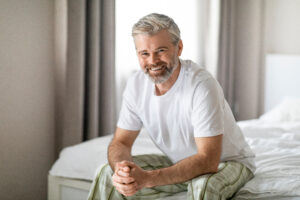 If you have been struggling with your nightly rest, then you know how much of a hassle it really can be. Lack of deep and restful sleep can lead to brain fog throughout the day, preventing you from being the best version of yourself possible. More than that, inadequate rest can be harmful to your overall health and increase your risk of heart attack and stroke. An oral appliance can help you to embrace the day and be ready for whatever comes your way!
Talk to our helpful staff at our sleep clinic in Livonia, MI about what has been going on overnight in order to learn more about how to improve your rest. If your loved ones have mentioned their concern over your loud problem snoring, it may be a sign of chronic obstructive sleep apnea. This is a common sleep disorder where your own body prevents you from drawing a full breath overnight, and it can lead to problems, both immediate and long term. Schedule an appointment with our team to see if an oral appliance is the next step in improving your sleep!
Waking Up Feeling Tired? It May Be A Sign Of Obstructive Sleep Apnea
Are you starting to think that your sleep quality is affecting your life? You may be right! If you are experiencing the symptoms of chronic obstructive sleep apnea, your condition can have serious effects on your ability to make it through the day. This is a common sleep disorder that occurs during your deepest form of sleep known as REM (rapid eye movement). During this period, your throat can soften to a point where it blocks your airway.
In addition to its immediate harm, sleep apnea can lead to some serious and sometimes life-threatening health concerns. Patients with this condition are at a significantly higher risk of heart attack and stroke, so take your apnea seriously. Thankfully, new forms of treatment are making management easier!
An Oral Appliance Can Help You To Treat Your Apnea
For some patients, the idea of a bulky and loud CPAP machine is enough to dissuade them from seeking treatment for their sleep apnea. If this sounds like you, talk to your dental health provider about the use of an oral appliance. This method uses a slim mouthguard to gently reposition your jaw forward enough to keep your airway open throughout the night. Talk to our team about whether an oral appliance is right for you.
Embrace The Day With A Less-Invasive Sleep Apnea Treatment
Are you waking up already feeling exhausted? It may be a sign that your sleep quality is not at the level that you need. Learn more about sleep apnea treatment by calling Dr. James Stewart, DDS in Livonia, MI at (734)425-4400!