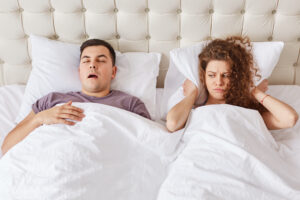 It may be awkward to approach the subject of snoring with a partner who suffers from this issue. After all, many people find this to be an embarrassing condition. With that said, bringing it up can be beneficial for several reasons, not just because it can disturb your rest. Your partner may have nightly breathing problems that are more serious than you realize. If they suffer from sleep apnea, it can negatively impact their well-being in several ways, and it can take away their ability to fully rest each night. Your Livonia/Detroit, MI dentist's office can help with snoring and sleep apnea difficulties. The sooner they are addressed, the sooner you and your partner can enjoy a quiet and restful night of sleep again!
Snoring Can Be A Difficult Problem To Bring Up With Someone
If you feel uncomfortable bringing up someone's issue with snoring, know that addressing it can be beneficial for several reasons. One is that talking about it can be the first stage to a solution that helps you, and them, sleep more easily. Another is that you may be pointing out a symptom of sleep apnea. If this is the reason that they snore, treatment will benefit their help. Because we offer oral appliance therapy to help with this issue, we can provide relief for you, and we can help them manage their well-being.
When Snoring Is A Symptom Of Sleep Apnea
Snoring occurs when soft tissues in the throat interfere with breathing passages. This interference can create the noisy, labored breathing that we associate with snoring. When that interference leads to sustained airway interference, it can disrupt a person's sleep cycles and lead to lasting problems with mental and physical health. Other concerns about sleep apnea include problems with high blood pressure, difficulties with headaches, and an irregular heartbeat.
Using Oral Appliance Therapy To Treat Sleep Troubles
By wearing an oral appliance, a person who struggles with snoring and sleep apnea can enjoy relief from nightly breathing difficulties. For people with sleep apnea, this approach can be a welcome alternative to the use of a CPAP machine. The guard will help position your jaw so that you no longer have to worry about the interference of soft tissues, so your breathing will remain undisrupted.
Talk To Your Livonia/Detroit, MI Dentist About Treatment For Snoring
Treating problems with snoring will help a person rest more easily, and it can protect their overall health. Our practice is here to help by offering different treatment solutions, including oral appliance therapy as an alternative to a CPAP machine. If you would like to find out more, or if you have any other questions about snoring and sleep apnea, contact your Livonia, MI, dentist, Dr. Stewart, by calling (734) 425-4400.