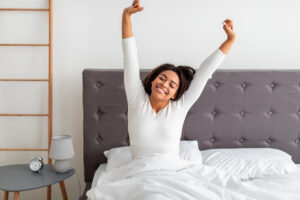 If you find that you are still exhausted in the morning, it might not just be because you haven't had your coffee yet. This may be a sign that you have an undiagnosed sleep disorder that is preventing you from receiving the quality rest that you need to have a successful day. Two of the five most common of these conditions are related to your oral health, so when you struggle overnight, talk to a trusted team of dental professionals about your options in treating your common sleep disorder.
At our dental office in Livonia, MI, you can take helpful steps in improving your sleep quality with oral appliance-based therapy for your chronic obstructive sleep apnea or bruxism. Both of these conditions can lead to serious health issues, so stop avoiding treatment, and instead, discover how this slim BPA-free mouthguard can help you to avoid lasting harms. For those with sleep apnea, an oral appliance gently repositions your jaw forward, giving you a greater ability to breathe overnight. Appliance-based therapy is also effective in the management of bruxism, so ask your dentist about how this approach can help you to keep your smile looking gorgeous and feeling great!
Loved Ones Bringing Up Your Loud Snoring? An Oral Appliance Can Treat Your Sleep Apnea
If your friends and family have made remarks about how concerned they are about your loud snoring, talk to a sleep science expert about your condition. This may be a sign of chronic obstructive sleep apnea, which can seriously impact your overall health in a variety of ways. This common sleep disorder happens when your own throat tissue blocks your airway, preventing you from breathing properly overnight. An oral appliance can help you to improve both your sleeping and your cardiovascular health, all while avoiding surgery or those noisy machines. Ask your dentist about whether appliance-based therapy is right for your sleep needs, and discover the advantages of a quality night of rest.
Oral Appliances Can Also Help You Protect Your Smile From Your Problem Teeth Grinding
Another common sleep disorder is known as bruxism, which is the grinding or gnashing of teeth. While this is a common habit for many, when it occurs overnight, bruxism can cause the serious deterioration of your smile through enamel erosion. An oral appliance can help you from clenching your jaw or grinding your teeth, protecting your enamel from contact. If you struggle with your sleep, take the time to talk to an oral health provider who understands the science behind your sleep!
Learn More About How An Oral Appliance Treats Sleep Apnea And Bruxism
When you need to improve the quality of your sleep, talk to our team of oral health experts about treating your common sleep disorder. To learn more about the advantages of an oral appliance, call Dr. James Stewart, DDS in Livonia, MI at (734)425-4400 today!